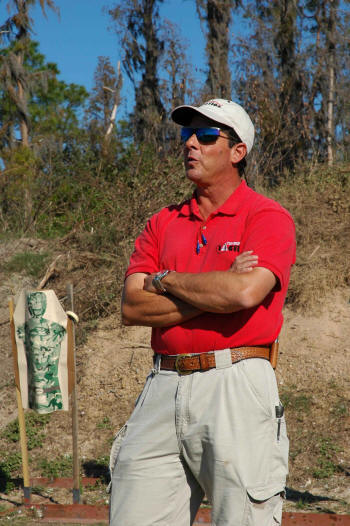 Randy Cain
Director
Randy Cain has been teaching and elevating the performance of his students for nearly four decades. He has trained with many of the country's most recognized and acclaimed instructors and taught with and for the elite pioneers of tactical training instructors. He is honored to be one of only three people in the world to hold instructor certification from Louis Awerbuck and Yavapai Firearms Academy having coordinated and/or hosted YFA classes for 20 years. It was Louis Awerbuck who persuaded Randy to start his own mobile training business.
Randy was a Rangemaster and Staff Instructor at Gunsite for eight years, including duty as an instructor in the highly esteemed Masters Series classes with Gunsite founder Jeff Cooper. Randy's service as a police patrol officer, SWAT team member, and training officer shaped his approach to range training with lessons learned from the harsh realities of the streets.
Randy encourages open minds and critical thinking, but he's not much for the fads that come along in the training world. He focuses on solid, time-tested fundamentals and embraces tactics evolved over time through actual armed confrontations. His experience and discerning eye combine to provide each student with relevent and highly effective training, resulting in improved student performance.
Instructor Credentials
A Lifetime shooter and hunter
Experience as a Police Officer, police SWAT team member, entry team leader, and training officer
25 Years Experience in Traditional Oriental Martial Arts
George Peabody College for Teachers of Vanderbilt University, 1973-78
Teaching Experience
Over 25 years in the field of tactical firearms training as a professional trainer. Before that, another 25 years in traditional oriental martial arts including running and operating a martial arts school.


Background: Specialized Weapons Training
Louis Awerbuck - Multiple classes: Handgun, Subgun, Shotgun, Carbine, Rifle
Jeff Cooper - American Pistol Institute/GUNSITE - Pistol and Rifle Courses
Clint Smith - International Training Consultants - Countersniper I & II
Thunder Ranch - Urban Rifle 1 & 2
Pat Rogers - Carbine/Pistol
Ray Chapman - Pistol
Ken Hackathorn Advanced Concealed Carry Pistol
Hershel Davis - Handgun & Carbine
Bill Jeans - Tactical Shotgun, Tactical Handgun
Scott Reitz - Pistol
Larry Mudgett - Pistol
Anti-Terrorism training in Europe with British Royal Military Police
Training with German Police SWAT units
'Action pistol' Competition Experience
Served as Rangemaster for Tennessee Practical Pistol Championships
DOE Nuclear Site Security Sniper School
Def-Tec Chemical Munitions Instructor Certification
Glock Police Pistol Armoror School
NRA Life/Endowment Member
NRA Police Firearms Instructor Development School
Tennessee State Certified Firearms Instructor
Illinois (ILETSB & NEMRT) Law Enforcement Certification: Firearms, Close Quarter Tactics, and Defensive Tactics Instructor
Mississippi Law Enforcement Firearms Instructor Certification
International Association of Law Enforcement Firearms Instructors (IALEFI)
Northwestern University Criminal Interdiction School
FBI Advanced SWAT School